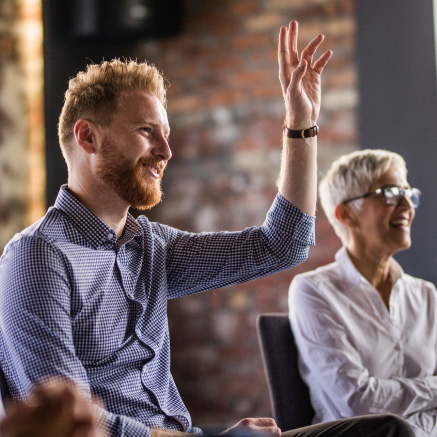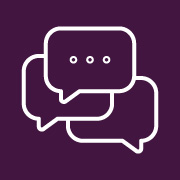 FAQs
Routing Number:

291172844
What can we help with?
Can't find the answer you're looking for?
Ask us.
When will my social security/benefits payment be deposited?
Check out this
Federal Schedule of benefits
for exact dates in 2023.
As a benefit to you, Embers may provide credit up to 5 days early after payment notification! Early credit is not guaranteed.
What are the deposit times for SSA/SSD and payroll?
You can contact us at 906-228-7080 or via messages for current information about deposit times.
I filed my taxes on X date, when can I expect to see the deposits?

Can I make a deposit into an account that I'm not on?
You can make deposits into any account at Embers. But if you are not on an account, you will not be authorized to receive any information about that account.
When can I access a pending deposit?
Sometimes, payment notifications are sent earlier than 5 days before the settlement date of your deposit. When that happens, we let you know that it is pending. We will not credit earlier than five business days before the payment settles to us.
When does Embers send out tax documents such as 1098s and 1099s?
Tax documents will be mailed by January 31st of each year.
Why does mobile deposit hold my payroll check for up to 5 days? 
Most mobile deposits will place a partial hold for 2 business days on checks deposited through the mobile app. In most cases, at least $225 will be available to you immediately. If you deposit the check over a weekend/holiday, the hold may be longer. You can
contact us
during regular business hours for us to review and release the check.
The National Credit Union Administration's insurance guarantees that 
you'll receive the money you're entitled to from your deposit account if the credit union becomes insolvent.
 It guarantees up to $250,000 per person, per institution, per ownership category. The NCUA is a federal agency created by Congress to regulate credit unions and insure your money.
How do I set up an automatic transfer (ACH) from one bank account to another?
You can set up a transfer from your account at Embers to your account another institution by using the External Transfer feature in digital banking. Log in to your account and click on Accounts  >  Add Account to get started. This will allow you the most control over your funds and often, faster settlement.
Alternatively, you can contact us or stop by one of our offices to sign ACH form. We will need the routing and account number for the receiving financial institution.
What information is needed to send a wire transfer? Is there a fee?
All required information can be found and submitted on our wire instructions page.
There is a required signature which can be done electronically or in person.
What is the charge for initiating a stop pay on a check/ACH? How long does it take for it to take effect?
A stop payment fee is $20 and will take effect within one business day. Stops initiated verbally will remain effective for 14 days or, with a signature, for up to 6 months for checks and permanently for ACH, unless/until revoked.
How long does it take for an ACH to post to my account?
ACH (Automatic Clearing House) transfers take up to 3 business days to post, depending on the originating and receiving financial institutions.
How long does a wire transfer take?
Wire transfers almost always happen same day. The cutoff time for an outgoing wire is 4pm EST. Anything submitted after that time will be sent the next business day. Wires cannot be sent or received on weekends or holidays.
I do not recognize a charge. What can I do?
If you're unsure about a transaction you see in digital banking, tap the transaction, then select Attach to a conversation. This will notify one of our Member Support Specialists and they will help get this resolved.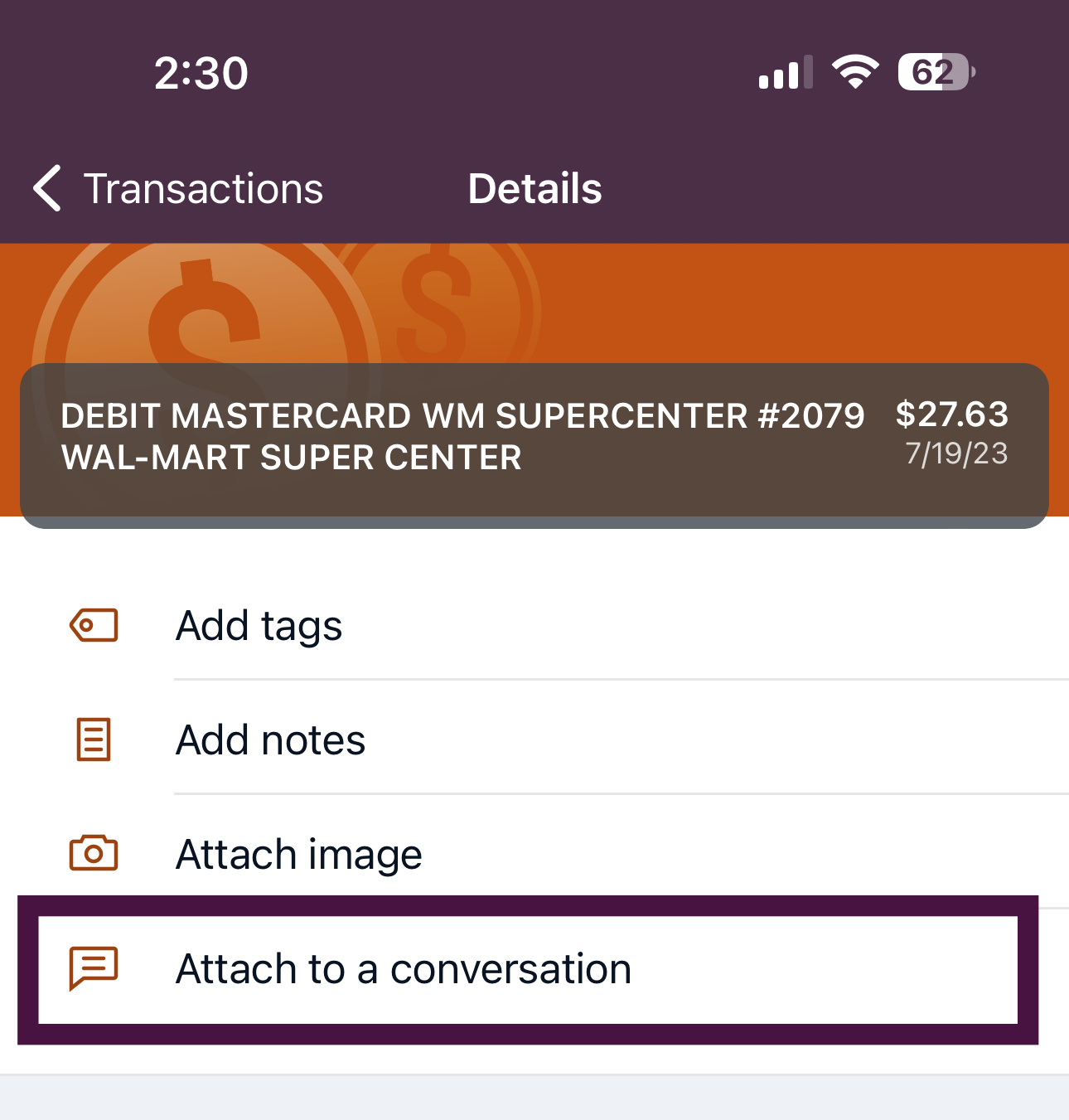 You can also research the name of the transaction in Google, ask joint owners if they made the purchase, or check your email for a receipt. 
Remember, you are always protected from unauthorized/fraudulent activity!
I order something from a website and I never got it, how can I get my money back?
First attempt to resolve with the company; contact them via their website, email, or phone for more information about your item and receiving a refund. If the company is unable to help, you can
contact us
after a reasonable time for delivery (~30 days) and we get this resolved.
Why is there suddenly more money in my account?
If you are unable to determine the reason for a higher balance than what you expected (no deposits have come through, for instance), it is likely that a hold has expired. When you authorize a charge on your card, a hold is placed for 72 hours. If the company/merchant does not post the transaction on that authorization, the hold may expire and it looks like more money has posted to the account.
However, companies/merchants have up to 6 months to post a transaction based on an authorization, so you should always keep track of what you have authorized vs. what has actually posted.
I have money in my account, why won't my card work?
There are many reasons, other than account balances, that cards do not work – wrong expiration dates, wrong CVV codes, cards flagged for suspected fraud, etc. Please contact us and we can help you find out why the card isn't working!
What is the difference between true fraud and a scam?
Fraud is theft of funds without your permission or knowledge. You always have full dispute rights with true fraud. Scams, however, are theft of funds with your permission or knowledge. While we can attempt to recoup funds from scams, you may not have dispute rights or have success in recouping those funds.
Members do have a responsibility to notify us about lost or stolen cards. Send a message or reach out to us at 906-228-7080 immediately if you believe your card is lost or stolen.
How can I link my other bank accounts to my Embers app?
In digital banking, select Accounts and the + sign (on mobile) or "add an external account" (on desktop). Two small deposits will be sent to verify that you are the owner of the other account. You will have to enter the amount of the two small deposits via digital banking to fully link the account
How can I transfer money to someone?
If your account is less than 30 days old, external transfers are restricted for security purposes. After 30 days, you can send money to other Embers Members + request to send money to anyone with
Zelle
®.
What's a share ID number?
A share ID number is what distinguishes different types of shares/subaccounts on a membership. 
00 – Savings
10 or 30 – Checking
What is Bill Pay and how do I enroll/use it?
Bill Pay is our service for paying your bills via digital banking. You must register for Bill Pay on a checking account through a web browser for your first use.
How do I set up a new payee in Bill Pay?

Select the Payee list and "add Payee."

How do I delete a payee in Bill Pay?

Select the payee from the Payee list. There should be a garbage can icon in the top right corner to delete the payee. 

How do I delete a payment in Bill Pay?

Select the scheduled payment in the payments list. There should be a "delete" button in the top right corner.

If the delete button is not available, it is too late to cancel the payment.
How long does it take for mobile deposits to be available?
Mobile deposits will have $225 or more available immediately. The rest of the mobile deposit is available after 2 business days (not including holidays or weekends). 
What is overdraft tolerance/overdraft protection/courtesy pay, and why am I being charged $25 after I go negative?
During your account opening, you opted in to courtesy overdraft protection, which allows the credit union to pay drafts, electronic transfers, or card transactions and bring your account negative up to $500. Each time a transaction hits your account, you are charged that fee for the courtesy payment – a maximum of 3 fees per day.
Are there fees for using my debit card abroad? What about credit cards?
There are no fees for using cards abroad outside of regular currency exchange. 
ATMs overseas work the same as domestic ATM. They may charge you an ATM usage fee, but there is no additional cost outside of currency exchange rates.
What information is necessary to send an international wire?
Embers will need 
$40 fee for an international wire.
Country of beneficiary bank.
Type of currency (foreign, US) and fixed amount.
Originator details, including purpose of the wire.
Beneficiary details, including account/IBAN, address, phone number, DOB, email.
Beneficiary bank details, including name, SWIFT/BIC, address, phone number.
I am going overseas. What information would Embers need so that my cards work?
Please notify us of your travel plans and dates of travel via message, phone, or at a branch so we can add a note for our fraud monitoring system. 
Does Embers offer currency exchange at all? If not, how would I go about it?
Embers does not exchange currency. You can receive foreign currency via ATMs abroad with your Embers debit card. 
Does Embers accept incoming international wires?
We currently do not accept international wires. Incoming wires must first be directed to a domestic financial institution before wiring to Embers.